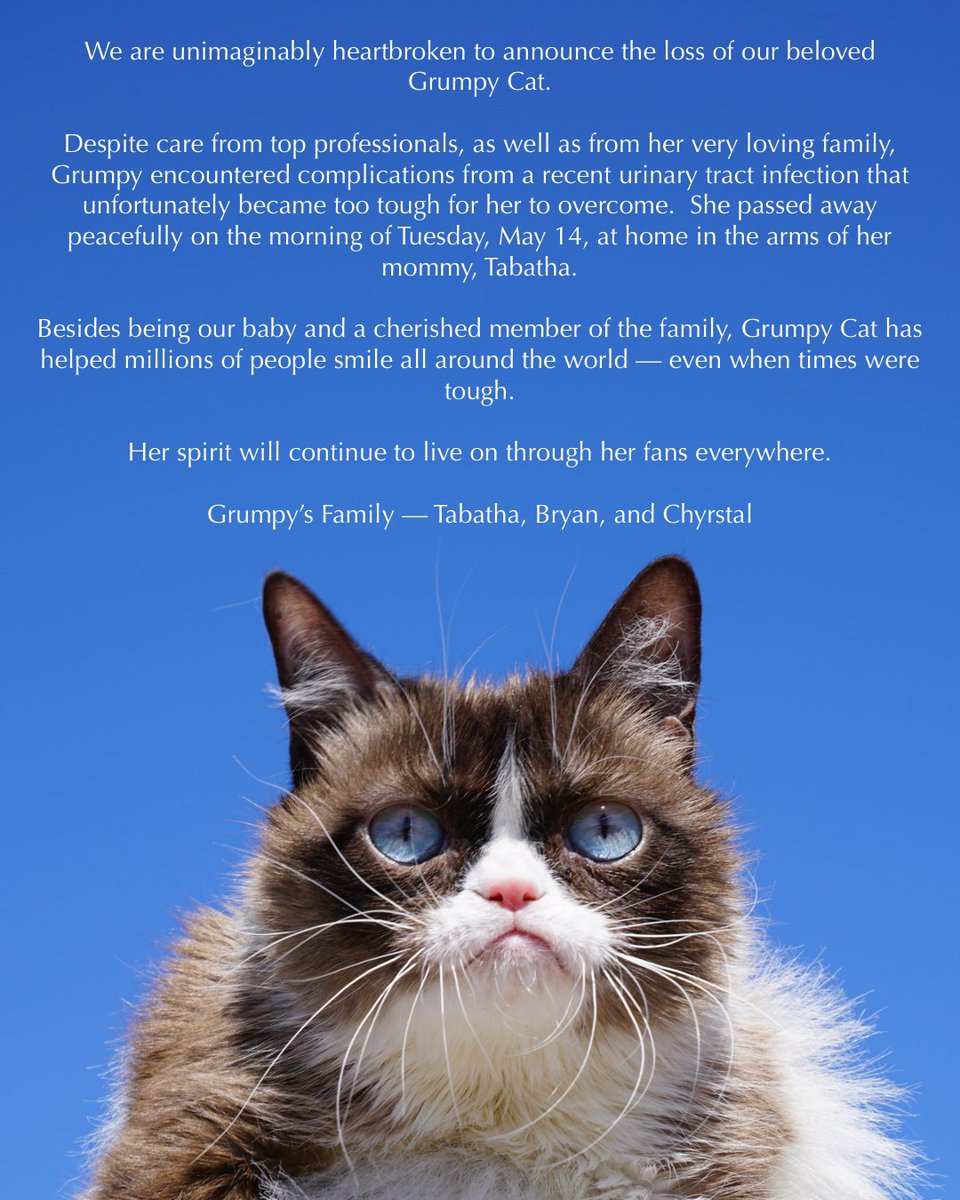 Internet sensation for a long time "grumpy cat" has passed away as confirmed by her owners in Arizona via twitter.
Aged seven, she had millions of followers on Instagram. The grumpy cat is also known as Tardar Sauce was the face of the countless memes on the internet for her million-dollar grumpy expression. As reports confirm grumpy cat or Feline was made to rest in her mommy's arms on Tuesday 14th May which saddened the internet!
Despite being professionally cared and having a loving family she faced some serious health issues in her urinary tract which became the reason of her death.
Her family says, "Besides being our baby and a cherished member of the family, Grumpy Cat has helped millions of people smile all around the world – even when times were tough. Her spirit will continue to live on through her fans everywhere."
Feline used to live with her loving owners Tabatha, Chrystal, and Bryan. The reason for her popularity was the picture which went viral after Tabatha's brother posted her picture on Reddit and since then she became the hot topic for memes!
Her permanent grumpy expression was maybe the cause of feline dwarfism told by her owners. Furthermore, they said despite her fame she was a normal cat and acted like it "She plays, hides, and acts as normal cats. (She LOVES to hide behind the curtains!) She isn't in front of a camera all of the time like many people perceive. We only take photos sets once every week or so and on the few occasions where we have met with the media or licensed partners, we ensure the sessions are short and that she isn't handled by many people. Tardar Sauce is a member of the family before anything else!"
The number of brands provided support to her ongoing fame including a
fragrance on her name "Kitten Fur" and brand of cold coffee named as
Grumppuccino adding to it she was also the face of the cat food brand "Friskies".
Ben Lashes, the pet's director, when portrayed her as a "seven-figure feline," assessing that she created around $100m (£78,361,500) in income for her proprietors.
"Heartbroken. Sending my love to Tabatha and all your family. That came as quite the shock,"
Another said: "I loved this cat. I had the absolute pleasure of meeting her once and I will never forget it.
"I learned much from her and am deeply saddened and devastated to hear of her passing. Love you Tardar Sauce! Long live Grumpy Cat!"