Liverpool boss Jurgen Klopp says his side's 2-2 draw with Manchester City is a "result we have to live with".
Leaders City remain one point clear of Liverpool at the top with seven games remaining after a pulsating game.
"It was like a boxing fight. Both arms down for a second and you get a massive knock and you shake a little," said Klopp. "Then the next knock is coming from the other team."
City boss Pep Guardiola said his side had missed "an opportunity".
The meeting between the country's two outstanding sides lived up to its pre-match billing and in the end there was nothing to separate them, with the destination of the Premier League title still hanging in the balance.
Premier League's top two play out pulsating draw

'Title rivals deliver classic that lives up to the hype'

Man City & Liverpool's fierce but friendly rivalry

Where do teams' quadruple and Treble bids stand?
Liverpool twice fought back to equalise and Klopp added: "It was a great game and a result we have to live with and can live with.
"What a game. Wild. The intensity of the game was crazy. It was two heavyweights, chomping at each other.
"We had to suffer, they had to suffer."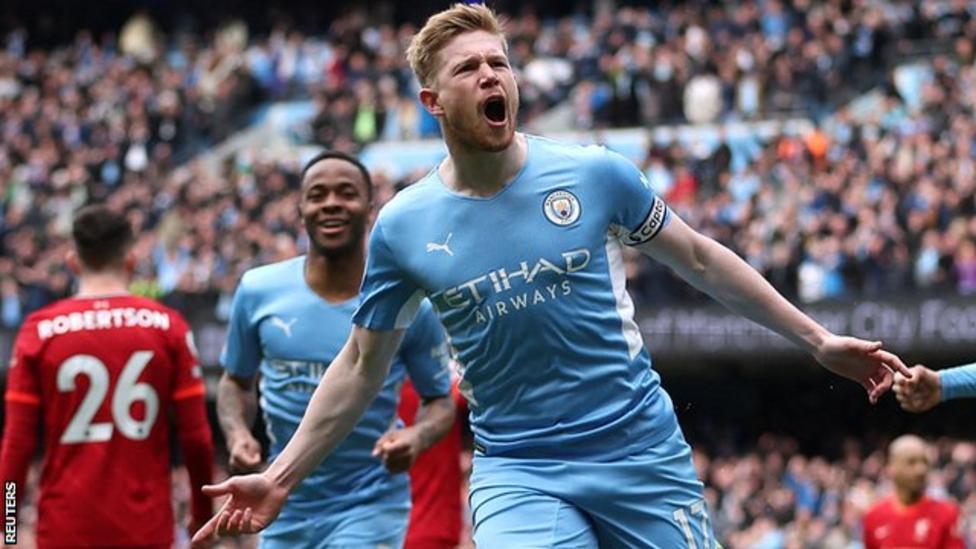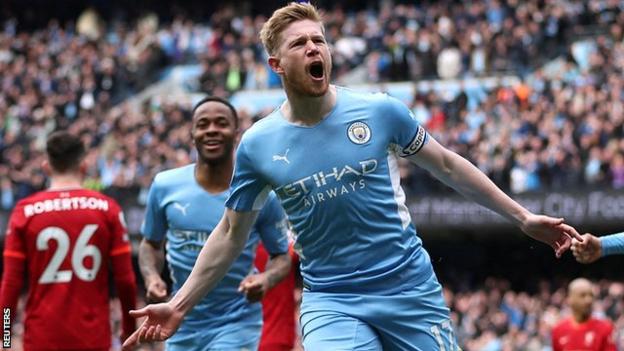 Liverpool captain Jordan Henderson said "it was not the end of the world" that the Reds did not win.
"There are positives and negatives," he added. "We are still in the title race.
"Manchester City don't drop many points but we have to concentrate on ourselves. If they do slip up, we have to be there. We stay positive and keep going until the end."
'This is not over'
Liverpool and Manchester City will meet again at Wembley on Saturday in the FA Cup semi-final and could yet meet in Paris on 28 May in the Champions League final.
Both Premier League games between the teams this season have ended as draws, the first time they've shared draws in both league meetings in a season since 2012-13.
Guardiola said he expected the title race to go to the last day of the season.
"Now both teams know [there are] seven games left, you have to win or it will all be over," he added.
"I had the feeling that with this result we missed an opportunity, a feeling we leave them alive. But it doesn't matter what happened, this is not over. I would say the same with defeat or victory.
"We know what we have to do. I don't know what is going to happen."
Guardiola agreed with Klopp's assessment that it was like a boxing match.
"Quite similar. He likes that. He likes his punching games."
Where do teams' quadruple and Treble bids stand?
Seven to go – will there be another twist?
Liverpool will go top of the Premier League if they defeat Manchester United in their next Premier League game on 19 April (20:00 BST).
That is because City do not host Brighton until 20 April (20:00 BST).
Liverpool's remaining league games

19 April

Home

Man Utd

24 April

Home

Everton

30 April

Away

Newcastle

7 May

Home

Tottenham

10 May

Away

Aston Villa

15 May

Away

Southampton

22 May

Home

Wolves
Liverpool's remaining seven matches include three against the current top-eight – Tottenham, United and Wolves. They also host a Merseyside derby against Everton on 24 April.
Five of City's seven remaining games are against teams who are currently in the bottom half of the table – Brighton, Watford, Leeds, Newcastle and Aston Villa.
Man City's remaining league games

20 April

Home

Brighton

23 April

Home

Watford

30 April

Away

Leeds

8 May

Home

Newcastle

15 May

Away

West Ham

22 May

Home

Aston Villa

TBC

Away

Wolves