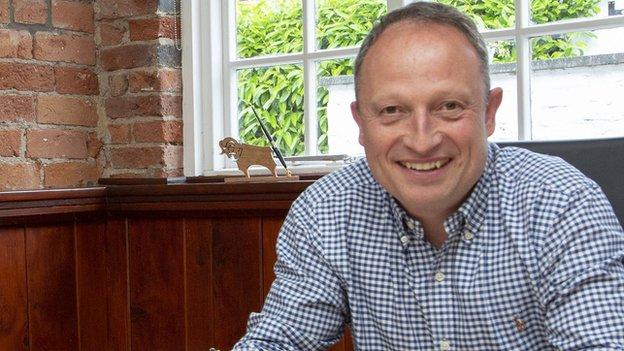 Local property developer David Clowes says he will make a bid to buy Derby County on Friday after purchasing the League One club's Pride Park stadium.
His company, Clowes Developments (UK) Ltd, have also given a loan to the club to allow them to start next season.
Clowes' attempt to take Derby out of administration comes after Chris Kirchner withdrew his bid on 13 June.
"With a deadline looming and the start of the next season getting closer, we needed to do something," Clowes said.
Clowes said a formal bid for the club will be submitted later on Friday, a week after Pride Park was bought from Derby's former owner Mel Morris.
The purchase of the ground, which has previously caused major problems with attempts to sell the club, had been kept confidential until the loan agreement had been completed.
Derby's joint administrators Quantuma said the loan would allow the Rams to continue to trade and added that "they look forward to continuing positive discussions" about the takeover.
"All parties recognise the need to conclude a sale of the business and assets of the club, as a matter of urgency," Quantuma added in a statement.
Clowes said buying the stadium "seemed the obvious first step" to help rescue the club, which was relegated to League One under manager Wayne Rooney at the end of a chaotic season of uncertainty.
"As a proud Derby supporter, it was inconceivable to me that the club was at risk of falling away," Clowes said.
"We've worked tirelessly behind the scenes on the stadium purchase and loan agreement to be able to get the club going again in time for the next season.
"Players, staff and fans needed some good news, and we are delighted to play a part in delivering that."
Rooney's Derby hosts Oxford in League One opener

Derby face Mansfield in two EFL competitions

Contracted Rams players seek legal advice
Clowes is the first interested Rams buyer to put money into the club to keep them afloat in the 275 days since Derby were placed into administration by Morris on 22 September 2021.
There had been promises from US businessman Kirchner that he would provide funding while still negotiating a takeover, but he failed to pay the club's wages for May before his attempted purchase fell through and plunged Derby's future into renewed uncertainty.
Clowes Developments (UK) Ltd – a company based in the Derbyshire village of Ednaston, with assets worth a reported £300m – have provided the money to keep the 138-year-old club trading, but rebuilding the Rams will be a significant task if the takeover goes through.
Derby are scheduled to start pre-season training on Monday, but with only five first-team players under contract for next season. The quintet does not include a goalkeeper or any defenders.
Restrictions placed on the Rams while in administration include a transfer embargo, which has left manager Rooney unable to sign new players, nor able to offer fresh deals to those he already has.
Despite the challenges and uncertainty, Rooney has remained at Derby.
England and Manchester United's all-time leading goal-scorer, who ended his illustrious playing career at Derby in January 2021 to take his first job in management, has previously stated he intends to help rebuild the club.
However, his desire to stay at Pride Park was linked to Kirchner getting his deal done.
Even though Kirchner pulled out last week, the 36-year-old remains at the club, with Clowes' involvement the latest development of a long-running saga.
'A hugely significant step' – Analysis
Natalie Jackson, BBC East Midlands Today sports editor
For nearly a year now, Derby County fans and the club's staff have lived with so much uncertainty so the news today comes as a huge relief.
In 20 years of covering Derby County's fortunes, I've never known a period of greater uncertainty or chaos – with botched takeovers, transfer embargoes, points deductions and a relegation.
There have been so many false dawns and promises but finally somebody with strong locals links and a proven business acumen has invested in the club.
This is a hugely significant step forward but the key now is a full takeover so the stadium can be back in the hands of the club and the re-building process can genuinely begin.
What we do know now is Derby has the money to start the season and now the process begins for restrictions being lifted and the club to start buying players.